ITS Document Management System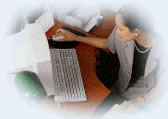 ITS Document Management System is an integrated solution for document capture, management and archival. It is the easiest way to bring a paper based office into the digital world. It streamlines the capture, management, processing and distribution of business information such as documents, reports, images etc. It helps capture important information from paper or electronic sources and turns them into useful format – ready for electronic processing. Intelligent document recognition performs data capture, classification, extraction and delivery of information from paper and other forms of documents. It provides flexible reporting ensuring easy access to useful information. With a choice of different backup media.
Features:
• Powerful recognition for scanning forms and converting them to electronic formats
• Supports electronic as well as scanned documents
• Provides fast and efficient batch scanning capabilities
• Template based classification of documents
• Flexible reporting
• Easy to use intuitive interface
• Modern architecture and use of the latest technologies
• Robust, flexible and scalable solution

Product Brochure (pdf): Please feel free to download the brochure.